I really enjoy debugging mysterious error messages from XPages...
Today, it's "field in note has wrong datatype":

I have experienced this problem upon a question from my client. Save button (which only submits the form) results in this error. After analyzing the page (analyze=delete all elements except the button) I decided that XPages elements have nothing to do with the problem. It was computing the document before saving, so that must be the problem. Indeed, I analyzed the form (analyze=delete fields part by part). Finally I found it. Here I will show you...
Let's create a simple form: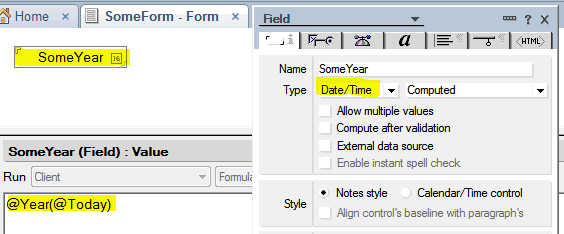 You will notice that: Field has a type for date/time but we are putting an integer... Simple mistake for a Notes developer, but it will work on client without any error...
Now add it to a data source and try to save it (put an error messages control to see the problem).
You have thousand fields on your form?
Have fun!!!